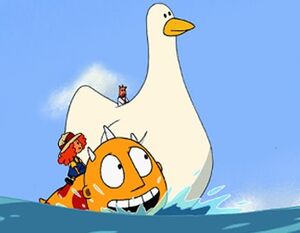 The Big Duck
is a very large duck who lives in the
River of Dreams
.
Beast
used to be afraid of Big Duck, since she had never seen a creature larger than herself, but when they got to know each other they became good friends.
Looks
The Big Duck is obviously very large. She has soft white feathers and a yellow beak. Her eyes are black. The Big Duck has two wings and big webbed feet.
Appearances
The Big Duck has appeared in many episodes of Maggie and the Ferocious Beast. Her first appearance was in the episode The Big Duck.
Counterparts
Big Bird (Sesame Street, both are large birds)
Kevin (Up, both are large birds)
Clifford the Big Red Dog (Namesake series, both are bigger than everyone else)
Wilt (Foster's Home for Imaginary Friends, both are taller than everyone else)